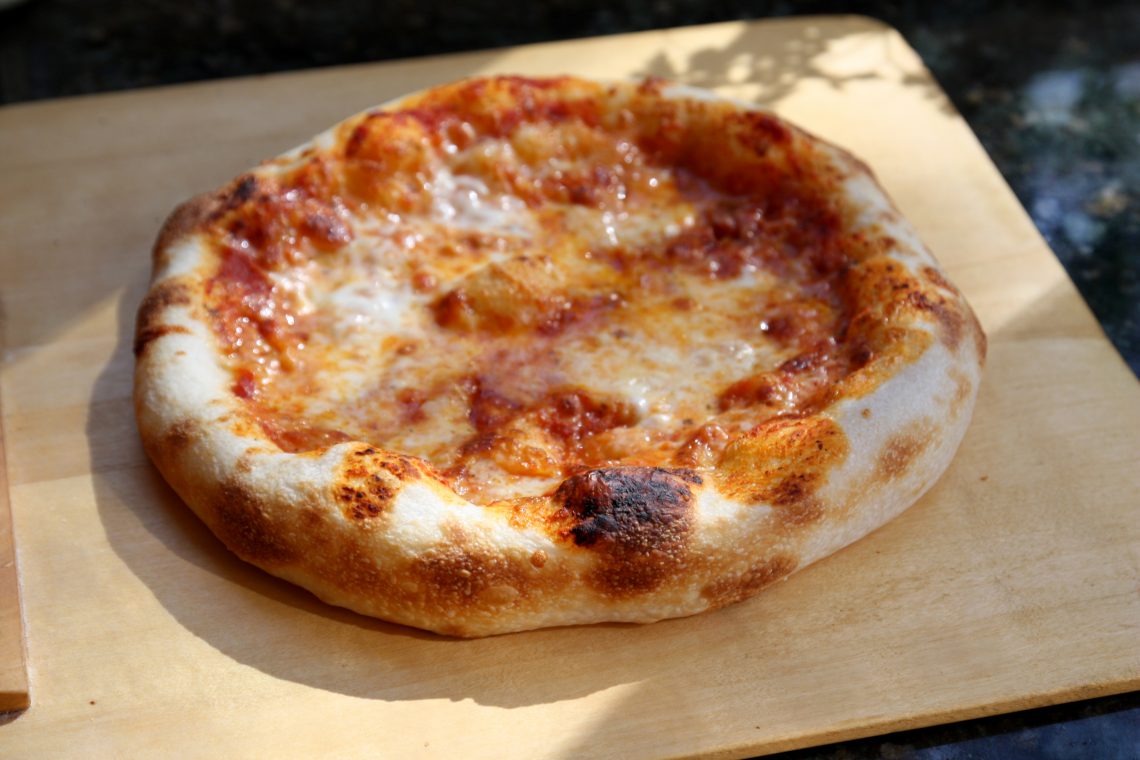 I make pizza a couple times a month, if not more. We like to do Pizza & Movie Night to kick off the weekend! We've been on a pepperoni kick lately but I love experimenting with toppings.
Pizza Dough

Lately I've been making this dough the morning of Pizza Night, but making it the day before and letting the dough rest in the fridge overnight allows it to develop more flavor.
This recipe makes 2 regular sized pizzas or 3 small ones.

Ingredients
100g mature starter
100g whole wheat flour
350g all-purpose or bread flour
325g water
10g olive oil
14g fine sea salt
Tools
pizza stone or steel
pizza peel or back of a baking sheet
containers to hold dough rounds for proofing
parchment paper (optional, but makes it much easier to load onto hot stone)
Instructions
Step 1: Autolyse

In a large bowl, combine starter, flours, water, and olive oil. Mix until all the flour is hydrated. Cover and let rest about 30 minutes.

Step 2: Add Salt and Mix Well

Sprinkle salt over the dough and mix with wet hands until the salt is fully incorporated and the dough is smooth, about 5 minutes. Cover the bowl.

Step 3: Bulk Fermentation

At this point the dough can either ferment at room temperature for about 4-6 hours, or in the refrigerator overnight.

Step 4: Divide and Preshape

Dump dough onto a floured counter and divide into 2 or 3 even portions. Shape each one into a tight ball.

Step 5: Proof

Let the balls proof for 1-2 hours at room temperature. They should about double in size. I proof mine in round oiled containers.

Step 6: Shape and Bake

Preheat the oven with the baking stone on the bottom rack to the highest temperature your oven will handle. Mine goes to 550°F. Let it preheat for at least 30 minutes so the baking stone is good and hot.
Turn a ball of dough out onto a floured counter. Working from the center, flatten the dough and stretch it out. Place on a piece of parchment paper on a pizza peel or the back of a baking sheet. Trim excess parchment paper, top dough with your desired toppings and slide onto hot pizza stone. Bake until crust is browned and bubbly, about 7 minutes. I usually remove the parchment as soon as the dough bakes enough, about 4-5 minutes in. Keep an eye on it! Slide the peel underneath the pizza to remove from oven. Add any additional toppings (parmesan cheese, fresh basil, arugula, etc). Let cool slightly before slicing.