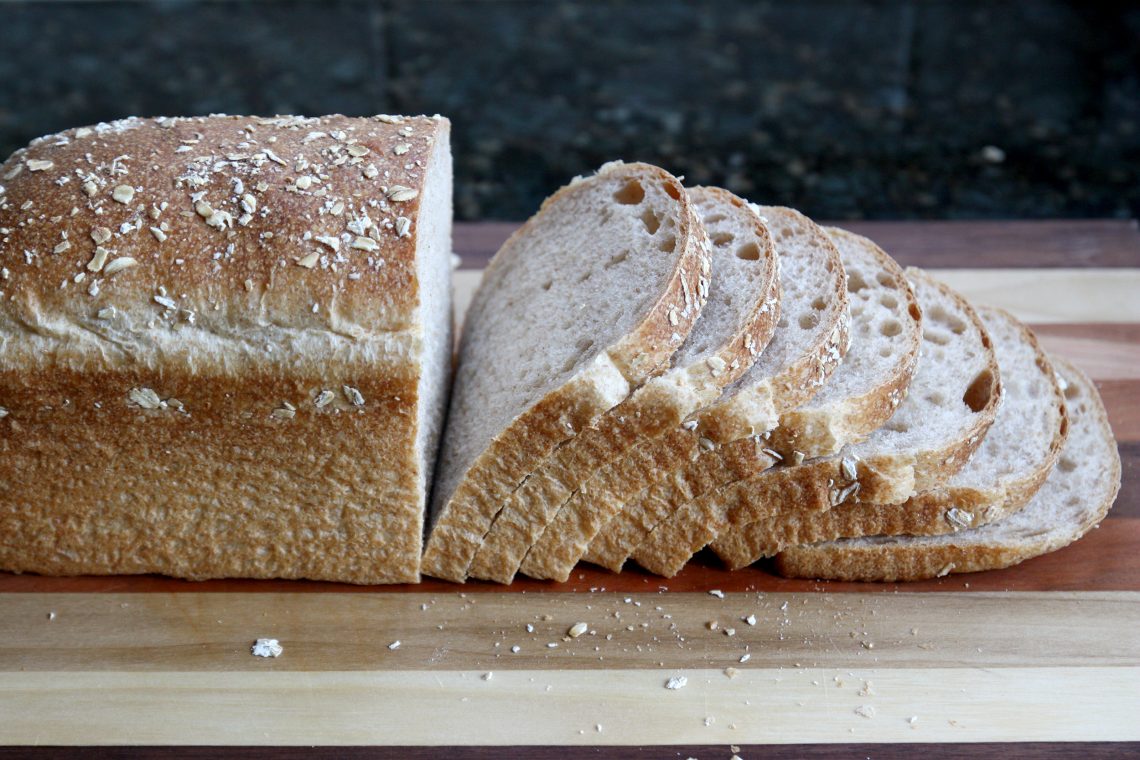 Naturally Leavened Sandwich Bread
After several trials and errors I have come up with a formula for a soft, naturally leavened, pan loaf that my 6-year-old will actually eat. I thought it was a lost cause. How do store bought loaves stay soft for days and weeks when homemade bread is stale by the second day? Well, I think I found the secret. It's called Tangzhong. You can read about it over on the King Arthur Flour website. Basically, you take a bit of the flour and liquid in your recipe and you cook it in a saucepan before adding it to your dough. You can bet I'll be using this method for all my soft rolls and cinnamon buns from now on.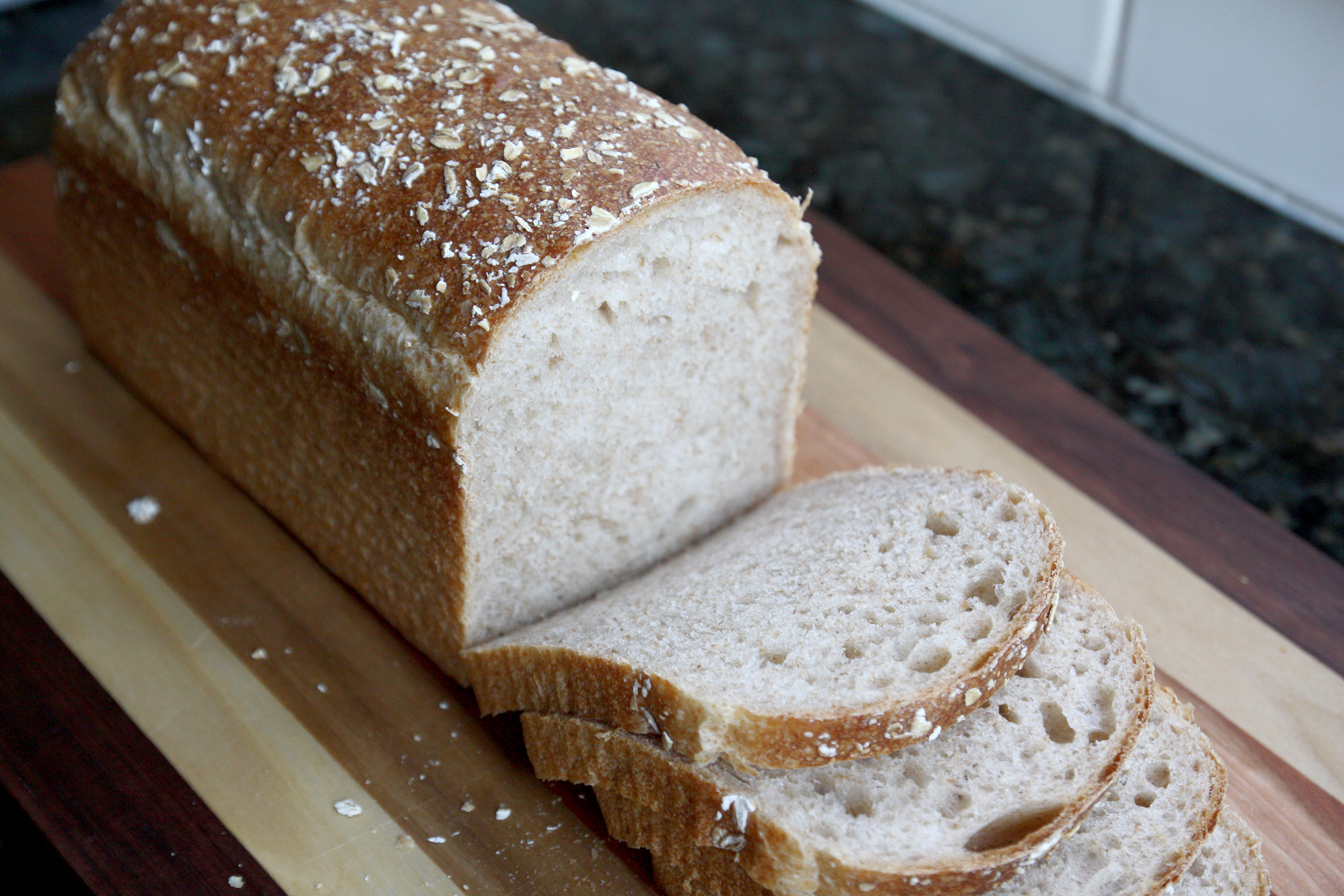 Other than the tangzhong, this recipe is very similar to my basic sourdough recipe. I've added a bit of sugar (you can use honey instead if you'd like) and some butter. Despite using sourdough starter, I didn't want a sour flavor so this is a same-day bake. None of the long, cold, fermentation that gives sourdough much of its flavor. I start it when I wake up in the morning and it's done by dinner time.
As with any naturally leavened bread you'll need to make sure your starter is ripe and ready to go when you want to mix up your dough. Since I want to start on the dough first thing in the morning, I mix up a levain the night before (15g starter, 90g flour, 90g water or 1:6:6) so it's ready when I wake up.
Naturally Leavened Sandwich Bread

A stand mixer makes this dough come together much easier, but it's not necessary. I've mixed this by hand successfully.
I've also substituted canola oil for the butter, but the crust does not look as nice when using canola oil.

Total Time
9 hours, 45 minutes
Ingredients
Levain (this makes a little bit extra)
15g starter
90g flour (all purpose or bread flour is fine)
90g water
Tangzhong
20g bread flour
112g water
Dough
180g mature levain (above)
tangzhong mixture (above)
113g water
205g bread flour
135g whole wheat flour
36g sugar
45g butter
9g salt
milk for brushing
Tools
small saucepan
whisk
stand mixer with dough hook (optional)
large mixing bowl
kitchen scale
dough whisk (optional)
bowl scraper (optional)
9x5x3in. or 9x4x4in. loaf pan
parchment paper
good oven mitts
Instructions
Step 1: Mix Levain the Night Before

Before you go to bed, mix up the levain ingredients in a container that is large enough for the mixture to triple in volume. Cover and let sit at room temperature overnight.

Step 2: Make Tangzhong

The next morning - In a small saucepan, combine 20g (about 3 tablespoons) of bread flour and 112g (about 1/2 cup) of water. Cook over medium heat, stirring constantly, until thickened. Remove from heat and let cool to lukewarm. At this point, measure the butter and cut into 1/4" slices. Let soften slightly at room temp.

Step 3: Autolyse

When the tangzhong mixture is cooled, add it to the bowl of a stand mixer (or a large bowl, if mixing by hand), along with the mature levain, remaining bread flour (205g), whole wheat flour, and remaining water (113g). Using the dough hook attachment (or just your hand), mix on the lowest setting until you don't see any more dry flour. Cover the bowl and let rest for 30 min to 1 hour.

Step 4: Add Salt, Sugar, and Butter and Mix

Sprinkle salt and sugar over dough. Mix on low until combined. Add butter, one piece at a time and mix until incorporated. Continue mixing for about 10 minutes total to build strength. Transfer to a clean bowl (if desired), cover and let rest.

Step 5: Bulk Fermentation with Stretch & Folds

For the first couple hours of bulk fermentation, do a set of stretch and folds every 30 minutes or so. With a wet hand, pull one side of the dough and stretch it, then fold it over the rest of the dough. Rotate the bowl a quarter of a turn and repeat until you've stretched all four sides. Then cover and let rest for another 30 minutes. The first time you do this the dough will be very stretchy. These stretch and folds build strength and you'll notice the dough feeling stronger with each set. After those first 2 hours (3 or 4 sets of stretch and folds) are finished, cover the dough and let it ferment until about doubled, about 2 more hours. The dough will be very airy and will give a good jiggle when you shake the bowl.

Step 6: Preshape

Dump the dough out onto a lightly floured surface and shape into a ball. Cover with a towel and let sit for 20-30 minutes.

Step 7: Shape and Proof

Prepare your loaf pan by lining with parchment or greasing it well. Using a bench scraper, scoop the dough and flip it over onto a lightly floured counter. Roll the dough up into an even log the same length as your pan. Seal the seam and move the dough, seam side down to the pan. Cover with a towel and let rise in a warm place until doubled. This can take about 2-3 hours and it's important not to rush it! I like to turn on my oven briefly, just to warm it up a tiny bit (not so hot that I can't touch a rack with my bare hand), then turn it off and let the dough proof in the oven. After the first hour check on it every half hour or so and make sure to remove it from the oven before preheating it!

Step 8: Preheat Oven and Bake

Preheat oven to 425°F. Right before baking, brush the top of your loaf with a little milk and sprinkle with rolled oats if desired. Bake at 425° for 25 minutes, then lower temperature to 375° and bake 20 minutes longer.

Step 9: Cool and Enjoy!

Remove from pan and let cool completely on a wire rack.
Let the bread cool completely before cutting into it. Once cooled, it can be stored in a plastic bag at room temperature.